10
04
2011
We're very happy to live in an established neighbourhood with lots of trees. This ensures plenty of bird life, possums and recently a few fruit bats (or flying fox) enjoying the environment along with the residents. I came home in the evening mid week and spotted a Tawny Frogmouth on the wires above the driveway, raced in & got the camera and managed to take a snap before it flew off.
This weekend though, we've been distressed to see two magpies and a fruit bat hanging lifelessly from the power lines (there was also another dead fruit bat straddling the wires further up the street). Somehow they've managed to electrocute themselves across the wires. The electricity company has been called to get them down (if they down't blow off before then) and we've asked them to check if the wires are too close together…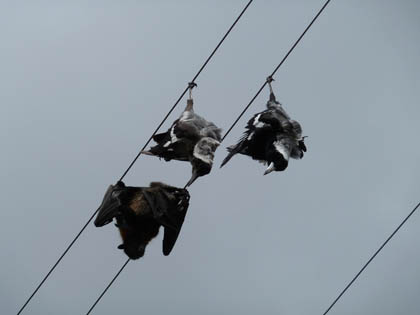 Seems such a shame that our suburban infrastructure can be so dangerous for the wildlife. I'm sure there must be ways to prevent things like this from happening.
Comments :
1 Comment »
Categories :
musings