20
07
2011
On the road again…
Yep, heading home after a long week in Denver attending a conference and sitting in a bar at Denver airport killing time. I mean, what else can you do at an airport other than drink coffee or beer and eat. I suppose you could wander aimlessly wondering how you can spend that last $18 of local currency that's not worth hanging onto. And it's not worth worrying about the price because what else are you going to do?
Anyway, fairly easy trip in a shuttle out to the airport and then got changed into more comfortable travel clothes and packed the bag before checking in. Managed to get a window seat to LA and then and aisle on the jumbo for the 14 hour flight to Melbourne. I bought myself one of those travel pillows to wrap around my neck and will be very interested in how it goes. A few hours sleep between the movies will be very welcome.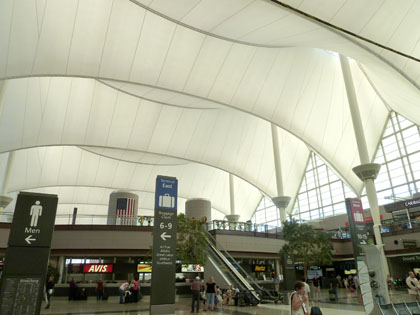 Denver is a large airport and a significant domestic transfer hub and quite busy. Architecturally it's special with a marquee type vinyl roof intended to reflect the Rocky Mountains. Actually looks a little like a Bedouin tent from the outside and provides a nice diffused light inside. So, people are busy eating fast food, hanging around, sleeping on the floor, browsing the stores, sponging free wifi (like me) and generally making the most of being captive in this closed system environment. Yep, there are rules and lots of security (particularly getting out to your departure gate), and I was impressed by the 'ambassadors' stationed around the concourses who seem to be retired people that answer questions and provide help if you need it.
I suppose the one thing everybody has in common at an airport is that they are all going somewhere – unless they are seeing someone off, or work there. There's a mixed mood of excitement about heading off somewhere as well as one of frustration as the sense of movement is stymied by the processes and systems of security checks. I reckon fair enough, because I for one would like to be safe as I travel and recommend giving yourself some time between connections so you don't get stressed.
Now time has been killed, and blog post written – might mosey off to my gate and then sit around to read my magazine and/or book as I've another hour till boarding. Oh, and hoping the new pillow will perform as advertised.
Comments :
No Comments »
Categories :
culture
,
musings
,
travel