27
04
2008
Sunday evening and the work cycle starts again tomorrow. Nothing wrong with that, it just means the weekend is over and whatever I didn't get round to doing will need to wait till the next one. It was a hectic week at work last week and I'm looking forward to catching up on a few things this week.
We headed down to Cape Otway on Friday and cruised though Apollo Bay with stopping for the Music Festival, well we did grab a coffee and muffin and shopped for some vitals. Caught up with some friends for lunch and then did the walk down to the Parker and round Point Franklin. I've never seen the sea so calm but it was very high so the rock scramble was tricky in between the waves.
On Saturday it was into Apollo Bay but straight through and up to Marriner's Falls. There were some signs up at the car park to say the track was closed due to storm damage but that didn't stop us (and a whole lot of other people). It wasn't that bad, but there were a few trees across the track and you could see that it had been up a meter or two when it rained heavily a couple of months ago. Anyway, it's a beautiful walk and lots of nice things to look at if you take the time. The falls are part of the Barham River which flows past the caravan park at Apollo bay and out to the ocean.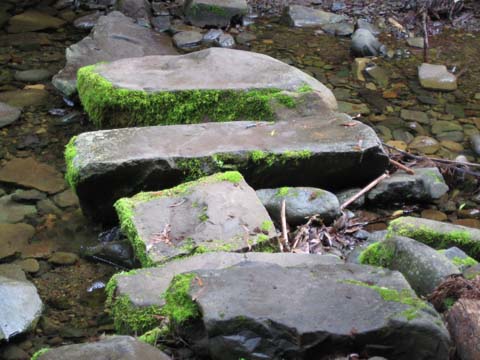 We stopped for a picnic in Paradise on the way out and enjoyed the company of three Kookaburras who (unfortunately they probably thought – but for their own benefit) missed out on some lunch. It was drizzling a bit (probably meant that we had it on our own people-wise), but not enough to stop us enjoying a very beautiful place.
Nothing like some fresh air and the sound of running water to refresh the spirit.