6
05
2012
With James' & David's help we're making some progress on the front garden. The first thing we did was pull out all the Alyssum, reset the blue stones into the curves we want and dug some trenches. We also cut back the Ficifolia (Flowering Red Gum) that's spread itself out over the front yard. We've also set out the iron rings which will act like planters and contain the bigger tress. I've treated the insides & bottom edge a little with anti rust, but they should rust up nicely on the outside. 
The other thing we've done is treat the ends of the timber that will make a wall between the iron rings and divide the garden from the driveway. Used something not quite creosote, but still black & sticky which should help make the timber last when buried in the ground.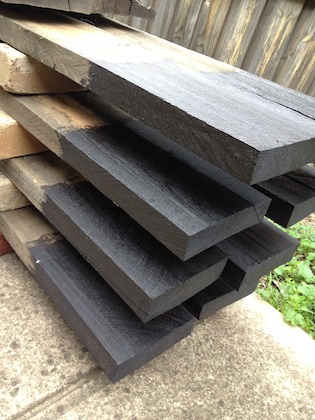 Next steps will be to cut and set the timber in the ground, and bolt a steel strap across the tops to hold them together and tie in with the rusty iron planters. Then maybe we'll be able to start some planting.