3
03
2012
It's the first weekend in March and cold, wet & dreary. A very stark contracts to last weekend's hot (high thirties) and dry weather. Not to worry though, I'm inside, rugged up and enjoying coffee & donuts. I'm also trying to write up (and finish) a research report that's been due for a few months. With the summer break and the transition to a new job this project has been on hold and I really need to get it done and out of the way.
So, what am I doing writing this short post? Task avoidance I reckon – but really trying out the Wrodpress for iPad app for the first time. We'll see how it goes as I try to add a photo.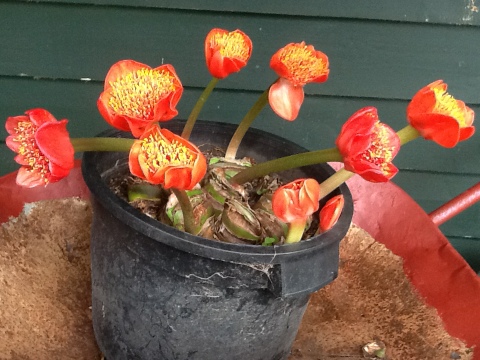 We've been surprised by the appearance of the flowers on the Haemanthus Red that's been lying dormant in a pot in the old wheelbarrow. Over the last 10 days it's bloomed and is adding some nice colour to the front verandah to brighten up the grey weekend. We think the warm weather last week may have encouraged it to get going, and I continue to marvel at how nature works.