15
01
2011
Just back into that other dimension of regular life (and work) after a couple of (very relaxing) weeks spent in the bush. This summer, down on Cape Otway, we managed to have a wonderful time enjoying a life at a different pace with no pressures or timetables. What a gift to pause (stop doing some things) and indulge yourself in (sort of selfish) simple pleasures. Forest walks, beach strolls, reading, talking, eating & drinking, and even doing basic chores, make for a very refreshing time. A bit like chicken soup – good for the soul.
Good food featured quite a bit this year with puddings, soups, coq au vin, and roasts being crafted in the camp oven and wok. We were even able to quaff some home brewed beer which was brought down & chilled. There's definitely something special about cooking & eating outdoors.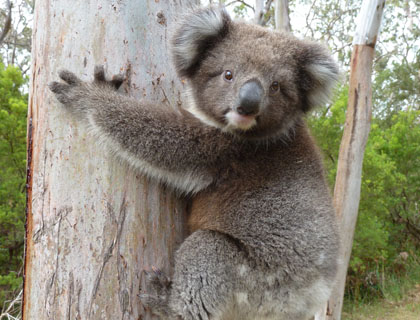 The Koala's have been busy finding ways to circumvent the polycarbonite bands I put around the trees. They climb up other trees & jump across as well as using the pads on their feet (rather than claws) to scrabble over the slippery surface. Looks like I'll have to add another band to make it harder if I want to keep them from eating all the leaves & killing the trees. Also lots of birds, king parrots, wrens, cockatoos, kookaburras, magpies, wattlebirds etc. as well as a couple of different wallabies. Fun to hear the young birds practising their calls & generally squawking a lot in an attempt to get a free freed from mum & dad.
So, now have been back at work for a week and trying hard to keep the work/life balance in order – we'll see how we go…
PS. Looks like I'm going to have to invest in MarsEdit – works a treat…