9
02
2012
Thought I'd write some words about the transition from 2011 to 2012 as it's already February and I haven't written anything for over six months. While time will not slow down for anyone (& I wouldn't want it to) I'm wondering if there are any techniques that will help me sort of slow it down so it doesn't all seem like so much of a rush. Maybe take more time out to be still? Anyway I'm disappointed that I haven't been disciplined enough to set aside some time for writing and hope that things will settle down soon so that I can get back to some regular reflection.
Since July 2011 things have been busy and it's been difficult to maintain routines. There's been lots of work to do, travel and visiting, and changes in work circumstance. Late last year we were in Perth and presented at a conference & attended another later in that week & visited friends as well as family on both sides. I've been to the Gold Coast to attend a conference that I was part of the organising committee. I've attended some professional development seminars and participated in some workshops. I've been studying and completing a research project and also begun a new job early this year which meant finishing the old one and handing over before the end of last year. And that's just the work side of things. There's also been some holidays, family responsibilities, all that stuff that comes with having a home & garden, visits to the bush, as well as a few weekends getting wonderful doses of culture in Melbourne.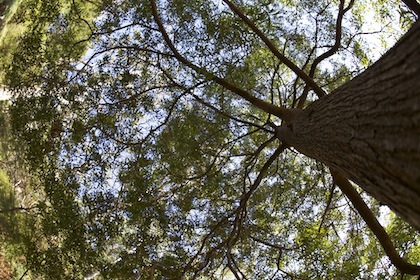 Well, the upshot of all this is that a break was necessary and we managed to have three weeks off over Christmas & New Year. Down on Cape Otway we were able to relax, read, reflect, and also do a fair bit of work (clearing mowing, sawing & stacking) in preparation for a bushfire assessment that will influence our building plans. The weather was wonderful with a couple of days rain and only a few hot days that required the minimum of movement and sitting in the shade under the Blackwood (pictured above – taken with  15mm wide angle lens). We had family and friends visit and also discovered a number of new animals & insects. It surprised us that we hadn't seen some of these critter before even though we've been regular visitors for over 10 year. We saw Black Slugs, a Bush Tick (that had finished feeding on a Koala, Possum or Wallaby), a couple of new bird varieties and a frog that we hadn't seen before. The Magpies, Kookaburras, Koalas and Wallabies were busy and all had young ones and we even came across an Echidna digging around for some ants. I'm thinking we should start our own fauna & flora catalogue that records what lives and grows in our corner/patch of the world. It's wonderful that we can be part of the environment that supports all these animals and look forward to spending more time there this year. Anyway – the break was perfect, and we came away refreshed, happy and ready for another year…
We also came across a (free) DVD called The Art of Walking that promotes the Great Ocean Walk that its wonderfully shot. Three interesting people reflect on their experiences of the walk and it includes some of our favourite places. You should check it out online and see if you can pick up a disk from a tourist office.
Comments :
No Comments »
Categories :
musings
,
the bush